Staff and Board Members
DIRECTOR
Melanie Goodyear has 20 years of nonprofit professional experience. Melanie has dedicated her career to helping the needy, leading her to diverse experiences such as working at an orphanage in Mexico, and community organizing in a poor immigrant neighborhood in San Diego. Prior to working with JRP, she managed volunteers within public libraries. She has consulted extensively with nonprofits, helping to build each organization's capacity. Melanie is currently the Board Chair of Advancing Students Forward; she holds a Bachelor's degree from Wellesley College, a Master's degree from Claremont School of Theology and is a Certified Volunteer Administrator.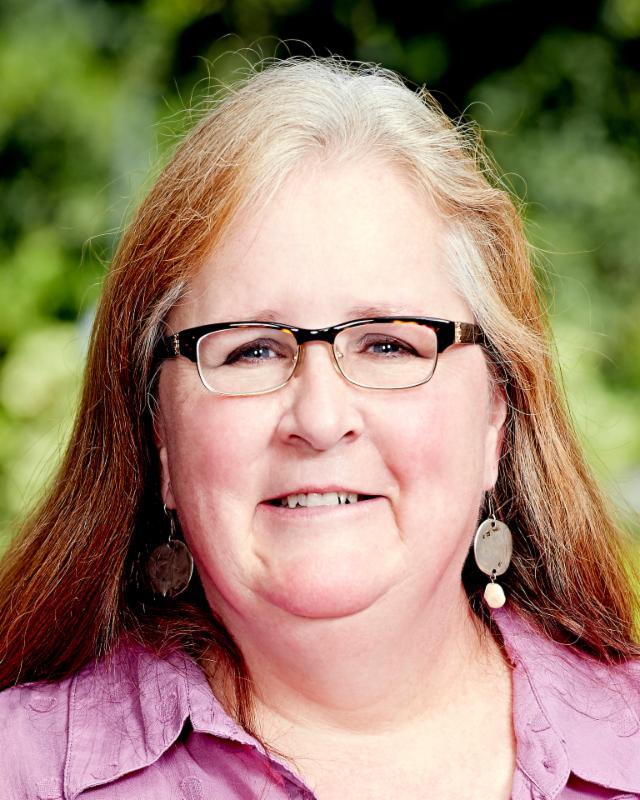 Beth Colcord started with JRP in summer 2016 in the newly created Program Coordinator position. Beth previously served for 10 years as Social Justice Coordinator at Pasadena's Neighborhood Church providing support and leadership to the congregation's Social Justice Outreach programs and to the wider secular and interfaith community. Beth holds a Bachelor's degree from Bowling Green University, has prior work as a Purchasing Agent and extensive volunteer work in adult literacy, public education and as a CASA worker in the Children's Dependency Courts. Despite being a long-time resident, Beth still loves exploring L.A., especially with her keen-o husband Frank and their two daughters.
BOARD OF DIRECTORS
Jericho Road Pasadena's Board has deep ties to the Pasadena community.
Roger J. Patterson, Board Chair, is a lawyer with The Walt Disney Company focusing on financial disclosure and corporate governance, and he previously practiced law in Washington DC with the law firm of Wilmer Cutler & Pickering (now WilmerHale). He is a graduate of the University of Minnesota and received his law degree from the University of Chicago. Following graduation from law school, he clerked for Judge Dorothy Nelson of the U.S. Court of Appeals for the Ninth Circuit. Roger has been active at Neighborhood Unitarian Universalist Church and has also served on the Board of Directors of the Western Justice Center in Pasadena.

Bob Harrison, Board Vice Chair and Secretary, is an owner-partner of Green Street Restaurant, a Pasadena dining tradition since 1979. He and his wife, Lisa, have 5 children and a grand-child. Bob has been involved in the community and is a past president of Neighborhood Unitarian-Universalist Church, the Pasadena Educational Foundation and the Pasadena Unified School District Board of Education.

Judy Gain, Board Treasurer, joined the Jericho Road Pasadena board in 2012 after serving as a volunteer. She retired in 2011 after a 30 year career at Avery Dennison Corporation as Director, Global Treasury Operations. She has served on the boards of the Junior League of Pasadena, Hospice, Pacific Clinics, Pasadena Heritage, Westridge School for Girls and is presently on the board of Pasadena Community Foundation.

Christine Bender received a B.A. from Wellesley College and a law degree from Harvard Law School. She was a corporate and securities lawyer in private practice in Los Angeles until 1983 when she was appointed Chief Deputy Commissioner of the California Department of Corporations. In 1987 Gov. George Deukmejian appointed her Commissioner of Corporations, head of that state agency. Since 1991, she has been a community volunteer. Christine is an Overseer at the Huntington Library, Art Collections and Botanical Gardens, where she has also been a docent for more than 20 years. She has been a trustee of the San Marino Schools Foundation, held numerous PTA offices in the San Marino Schools, and has served as President of the Wellesley College Club of Pasadena and as President of Neighborhood UU Church of Pasadena.

Mimi Hennessy received a BA from Scripps College and holds a Masters from Claremont Graduate School and Doctorate from BYU. She retired as Superintendent of Schools in Arcadia USD after 42 years in educational leadership including program development, personnel, and staff development. She was invited to speak for numerous organizations and to chair state and regional conferences for administrators. More recently, she has served on the Board and finance committee of Neighborhood UU Church, where she is a volunteer in various capacities. She also participates in the Arcadia Rotary and has served on the Board and as President, and as Asst. Governor and District Vision Facilitation Coordinator for Rotary District 5300. Mimi is an active community volunteer for Jericho Road and other organizations and an avid traveler in her spare time.

Anne Kennedy retired in 2012 from a career in clinical research management focused primarily on cancer research. She was also the founding Executive Director of The Wellness Community-Foothills (now the Cancer Support Community Pasadena) and served in that capacity for 10 years. She received her BA from Wellesley College, an MS in Biostatistics from USC and an MBA from UCLA. She has been an active community volunteer since moving to San Marino in 1978. She has served on San Marino PTA and Schools Foundation Boards, the Boards of Portals, LAMP, Scripps Home, Cancer Support Community Pasadena, Planned Parenthood, Wellesley College Alumnae Association & Wellesley Club of Pasadena. She is a docent in the estate tours and student education programs at the Huntington Library, Art Collections and Botanical Gardens and has served as a consultant to six local non-profit groups as a Jericho Road volunteer.

Carol Kirby retired as Chief Marketing Officer for Accor North America, eesponsible for marketing and strategic planning for North and South America for all hotel brands, including Sofitel, Novotel, Ibis, Red Roof Inn, Studio 6, Motel 6. Previous to Accor, she was Vice President, Marketing and Strategic Planning with Baskin Robbins. She is currently the Board Chair with the Pasadena Humane Society and volunteers with Planned Parenthood and HMRI. She has volunteered with JRP since 2011 and is excited to move into a board role in 2017.

Janet McIntyre has spent her entire career in the nonprofit sector in LA. Currently she is the VP of Programs and Training at Executive Service Corps of Southern California. Previously she worked in development in the arts, both at KUSC Public Radio and at the LA Philharmonic/Hollywood Bowl. She is a certified coach and she earned her Exec Master of Leadership from USC and her BA in Public Policy with a minor in Asian Studies from Occidental College. Volunteerism and philanthropy have been important to her and have played a big role in both her professional and personal life. Currently, she is the co-chair of the South Pasadena Community Garden which she helped develop, is part of a AAPI Giving Circle focused on social change in LA, and is an active volunteer with her alma mater. A proud LA Native, Janet resides in South Pasadena.

Lynn Miyamoto is a lawyer specializing in immigration, with degrees from UC Davis. In addition to running her own practice, she is an active volunteer; Lynn is currently on several others boards, including Keiro Senior Health, the Glendale Educational Foundation, and First District PTA. She is also very involved in Neighborhood UU Church and is the proud parent of two daughters.

David Shechtman is the founder and president of Tru Progress Consulting based in Los Angeles. His coaching, consulting, and training experience includes work with Fortune 500 companies in the financial services, healthcare, travel & hospitality, and telecommunications industries. Specific clients include Northwestern Mutual, ADP, DaVita, Virtuoso, and the Entrepreneurs Organization (EO). David's education includes a Master of Science in Organization Development from Pepperdine University. He also has taught Organization and Strategy Consulting at the University of Southern California's Marshall School of Business. David is a regular presenter at the Organization Development Network annual conference. David's writing has appeared in the OD Practitioner journal and ASTD's T&D magazine.

Lisa Wilson is the Director of Research & Evaluation for Flintridge Center. Lisa was formerly Flintridge's Director of Community Services, a program that concluded in fall 2012 and offered a multifaceted training curriculum designed to meet the infrastructure and programmatic needs of community organizations. Lisa received an A.A. from Mount St. Mary's College in Los Angeles, a B.S. in Workforce Education and Development from Southern Illinois University, Carbondale and a Certificate in Nonprofit Management from Duke University. A life-long resident of the Pasadena area and proud grandmother of five, Lisa and her four sons' graduated from PUSD schools. Lisa received Mentoring & Partnership for Youth Development's Community Services Award in 2011 and the Marge Wyatt Advocacy Award from Child Care Information Services in 2012.
FOUNDERS
John A. Blue is a founding partner of the law firm of Blue Schoor & Diehl LLP. He is a graduate of Carnegie Mellon University and Harvard Law School. He practiced law for more than forty years in Los Angeles, and before founding Blue Schoor & Diehl was a long-time litigation partner with the firm of Adams Duque & Hazeltine. He was one of the early organizers of Jericho Road Pasadena and was its first Board Chair. He has been deeply involved for many years in the affairs of Neighborhood Unitarian Universalist Church of Pasadena and is a past president. He has served on several Commissions of the City of Pasadena. John is married to Betsy Blue, a community volunteer and activist, and is the father of Catherine Blue Holmes, also an attorney, of Sunnyvale, California. He is and has long been a committed supporter of the Jericho Road Pasadena's capacity-building services because he sees in it the most cost-effective way to deliver invaluable professional services to community-based non-profit organizations.

Dr. Barbara Eaton is a retired general surgeon who practiced at Kaiser Permanente for nearly 28 years, serving as Chief of Staff for two years and as a member of the Bioethics Committee. She was educated at Antioch College and Tufts University and then received her MD at George Washington University Medical School. Barbara also served on the Board of Convalescent Aid Society and is a trustee at Neighborhood Unitarian Universalist Church. She lives with her husband in South Pasadena, is the mother of two adult children and two grandchildren, and enjoys her Labrador retrievers.

Dick Hirrel practiced law in the City of Pasadena for 18 years in the estate planning and probate fields. Since his retirement in 1998, he has been acting as a mediator in all types of civil cases, except for domestic disputes. He has also previously served on a number of non-profit boards, and has over thirty years of experience in that regard. He also enjoys golf and travel.

Fran Neumann was a life-long resident of Pasadena but received her BA from Sweet Briar College in Virginia then her MA at CSULA. She first worked as a teacher of the handicapped in Pasadena, then as a consultant for Children's Hospital, before joining the staff at Pasadena City College as Director for Handicapped Students. During her active professional life she was co-founder and president of the California Associations of Post-Secondary Educators of the Disabled, founded Pasadena's Day One, served as a Director of the Garden Club of America and of Descanso Gardens in La Canada. She was active in many other Pasadena-based organizations, including the First Offenders program with the Pasadena Police Department.

Rev. Hannah Petrie served Neighborhood UU Church 2007-2016, where she learned about the Jericho Road model at a Large UU Church Conference in 2008, and led the feasibility study efforts to bring it to life here in Pasadena. In addition to skills-based volunteering, Rev. Petrie is passionate about progressive, grass-roots organizing in the areas of addressing unbiased policing, community violence, labor rights, and affordable housing. She currently serves the UU Church of Studio City in Los Angeles and writes the social justice blog The Justice Hustle.